Dona's training is an integral part of the success I've had with my horses. Most importantly, she shows great empathy for horse and rider and works patiently yet persistently to help students achieve their goals. She possesses an extensive knowledge of the theory behind the training, and as such she is able to teach not just the "how" but also the "why" of dressage. Due to her classical approach, Dona is able to utilize dressage to naturally strengthen and enhance any horse regardless of breed or discipline. Under her guidance, I competed my Quarter Horse through First level, garnering recognition from the MD State Quarter Horse Association for achievement in dressage. Dona then helped me bring my Oldenburg from green to currently schooling Third level; along the way regularly qualifying for and competing successfully at USDF Regional and other year-end finals. I can't credit Dona enough for improving my riding and helping my horses become happy, successful athletes.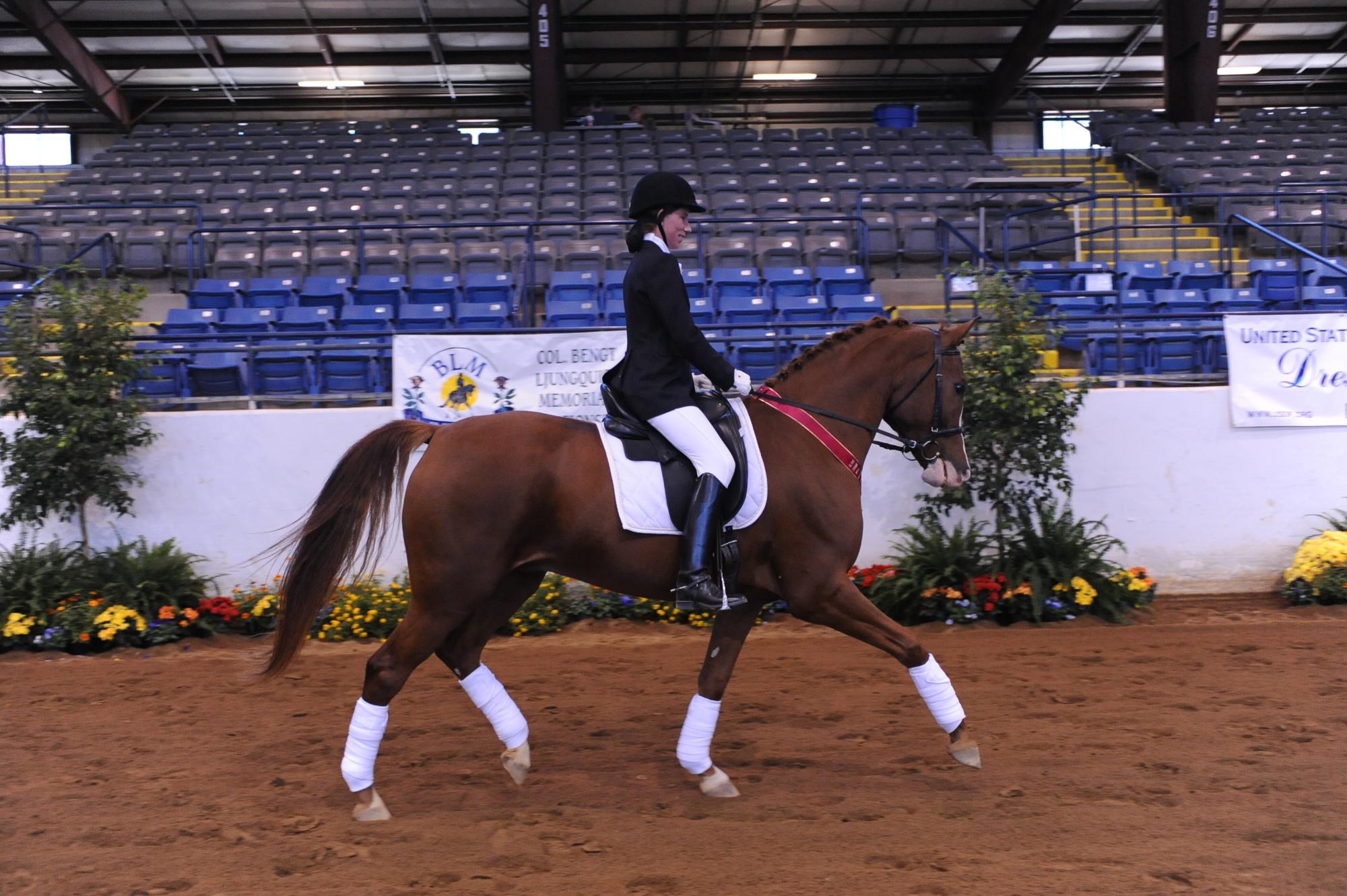 Anne Matthews and her horse
Red Riot at the BLM Championships
This is my horse Crescent and my horse Shindig. As you can see I like bay geldings. I started taking lessons from Dona Ruth over 17 yrs ago. I did not know much about dressage but wanted to learn. She help me purchase both of my horses as well as help with all of the training of rider as well as horses. As an instructor she is concise and consistent in her methods. She believes in basics as the foundation for all disciplines. With her guidance we trained my first horse up to doing some third level movements with me showing him second level. I was always reluctant to move above my comfort level but she consistently encouraged me to try. At the age of 20 Crescent was retired. With the blessing of my husband I purchased Shindig. With all of the knowledge that I had learned from Dona I was able to move him thru training level and into first level within my first year and a half of showing. We qualified for the CBLM championship this past fall and came in 4th out of 32 entries as well as qualified for the GAIGS for next year. As she has moved on to Kentucky I wish her the best and encourage anyone with the willingness to learn to take lessons from Dona. She has a wealth of knowledge that she pulls from regarding health, nutrition,feet,teeth and lameness issues and can usually get to the bottom of horse/rider inconsistencies after just a short time. Marylands loss is Kentucky's gain.
Debbie Higgins and her horses Cresent and Shindig
Dona is an amazing instructor, trainer, and person! I have been with several trainers and can say that she has been the most helpful by far. Every lesson that i have with her I am able to leave with a clear understanding of what I did and most importantly why I did it. She never hesitates to answer any questions during the lesson and is always willing to explain things further if needed, never getting frustrated. I also felt like Dona never pushed my horse past her limits just to get to a goal faster and instead worked with both us strengthening our weaknesses and building a solid foundation. She has helped me get 2/3 of the way to my Bronze and I am confident that with her I will be able to reach my goal for Bronze very soon!
Dona is a great instructor and does an amazing job taking care of all the horses! Every lesson I learn something new and walk away with a smile! We are so thankful to have someone so amazing and knowledgeable to board my mare with while I'm at school!
Dona is the absolute best riding instructor! She helped me go from Intro into 3rd level in just 4 years. With her patience and undivided attention, she always found different ways to help me understand the ideas and mechanics behind new movements as she introduced them to me. Her compassion for each individual student AND for each horse really sets her a part as she really nurtures every horse/human partnership individually. If you have a goal, she will map out a plan to get you there! L-O-V-E her!!
Tori Willis and her horse Wasabi
Anna D. and her horse Callas